**ENGLISH READ BELOW***
ครั้งแรกกับ REEL ROCK TOUR ที่กรุงเทพ ศุกร์ที่ 1 ธค 2017 จัดโดย Thailand Mountain Sport Club รายได้ค่าตั๋วทั้งหมดสมทบทุนกองทุนพัฒนาและดูแลหน้าผาภาคกลาง REEL ROCK TOUR คือเทศกาลหนังปีนหน้าผาที่โด่งดังที่สุด และครั้งนี้กับ REEL ROCK 12 ผู้ชมจะได้ดูหนังปีนหน้าผาใหม่ทั้งหมด 4 เรื่อง BREAK ON THROUGH เกี่ยวกับนักปีนระดับโลก Margo Hayes และการที่เธอได้เป็นผู้หญิงคนแรกที่สามารถปีนเกรด 5.15A สำเร็จ ต่อด้วย ABOVE THE SEA กับนักปีนในตำนาน Chris Sharma และความท้าทายการปีนหน้าผาแบบตัวเปล่าเหนือทะเล SAFTETY THIRD พบกับนักปีนบ้าบิ่น Brad Gobridght และการปีนที่ความตายคือผลรับของความผิดพลาด และสุดท้าย STUMPED กับเรื่องราวของนักปีนเขาแขนเดียวและเป้าหมายกับการปีน 5.12
โปรแกรมงานดังนี้:
17:00 - 18:00: ลงทะเบียน เม้ามอย พบปะ เพื่อนนักปีน ชมบูธสปอนเซอร์
18:00 -19:00: presentation นักโบลท์ท้องถิ่นกับสถานที่ปีนใหม่ๆใกล้กทม / ไกด์บุ๊คเล่มแรก
19:00-20:30: ชมหนัง Reel Rock 12
20:30-21:00 จับฉลาก แจกรางวัล กล่าวปิดงาน
กีฬาปีนเขาในพื้นที่ภาคกลางได้รับความนิยมเพิ่มขึ้นอย่างสูงทั้งในหมู่คนไทยและต่างชาติ อย่างไรก็ตาม หลายรูทเก่าแก่เริ่มถูกกัดกร่อน และประกอบกับนักปีนได้ริเริ่มพัฒนาพื้นที่ปีนใหม่ๆ การร่วมกิจกรรมนี้ นอกจากได้รับสาระและบันเทิงแล้วยังเป็นการช่วยสนับสนุนโครงการเหล่านี้ด้วย ขอบคุณมากที่มาร่วมด้วยช่วยกัน
Thailand Mountain Sports Club is excited to host the first official screening of REEL ROCK TOUR in Bangkok! This year, REEL ROCK 12 returns with 4 new short climbing films. Featuring Margo Hayes, the first woman to climb 5.15; Brad Gobright, an up-and-coming free soloist with a donut addiction; the return of Chris Sharma to the deep water soloing stage, and more.
Read more about the film below after event description.
All proceeds of this event will go to Thailand Mountain Sports Club to support development of new climbing areas and maintenance of old climbing routes in Central Thailand.
ORGANIZER: Thailand Mountain Sports Club
SPONSORS: PODA STORE, KLEAN KANTEEN THAILAND
Event Schedule:
17:00 - 18:00: registration and social. Come check out our sponsors' booths and talk to local pioneers in the Thai climbing scene.
18:00 -19:00: Presentation by local bolters and climbers. Learn more about new bolting efforts, new climbing areas near Bangkok, and get a sneak-peak at the soon-to-be released first edition of Central Thailand Climbing guidebook.
19:00 - 20:30: SHOWTIME (REEL ROCK 12)
20:30 - 21:00: Raffle Giveaway, Prizes, Closing statement.
WHY THIS EVENT?
Climbing in Central Thailand is rising in popularity among locals and international travelers. However, classic climbing routes are seeing signs of erosion and local climbers are inspired by the potential of newly discovered climbing areas. By attending this event, you can help support the ongoing rebolting and bolting efforts. A few notable local climbers have been spending their personal resources into maintenance and development of climbing areas. This is an exciting opportunity for the general climbing community to gather, learn about new areas and help support new projects.
100% of proceeds from this event will be going to the Thailand Mountain Sports Club. Attendees can sign up for our mailing list to be updated about specific projects and routes the funds are used for.
Raffle tickets, snacks will be available for purchase and donation is highly welcome.
ACCESS THE EVENT
This event takes place at the GLOW FISH event room on the 6th floor of Asoke Towers. Street Address is 219 Sukhumvit Khwaeng Khlong Toei Nuea, Khet Watthana, Krung Thep Maha Nakhon 10110.
Asoke Towers can be easily reached via MRT phetchaburi station. It is a short 5 mins (400m) walk south on the Asoke road toward Sukhumvit Road.
The building offers free validated parking for attendees coming in personal vehicles.
TICKETING:

Seating is limited so please purchase ticket via Ticket Melon. Full payment is required at check out. Refunds can be made up to 7 days prior to the event date. Left over tickets may be purchased at the doors.
MORE ABOUT THE FILMS
BREAK ON THROUGH
In high-end modern rock climbing, 5.15 is the top of the difficulty scale, a grade achieved by only a few men and never by a woman. Margo Hayes, a little known 19-year-old from Boulder, Colorado, is determined to change that. To be closer to the world's hardest routes, she has moved to Europe, where she trains and climbs with the goal of succeeding on two of the most iconic 5.15s in France and Spain. But pushing her body and mind to the absolute limit, she risks injury and failure in her quest to be the first.
ABOVE THE SEA
Chris Sharma remains the world's greatest practitioner of deep water soloing — climbing ropeless above the sea. Ten years after his generation-defining ascent of a majestic arch, Chris returns to the Mediterranean island of Mallorca where he discovers a beautiful, sweeping wall with small holds running up its face. If he can link the moves, and endure the numerous heart-stopping plunges into the sea, he will establish what may be the world's hardest deep water solo climb.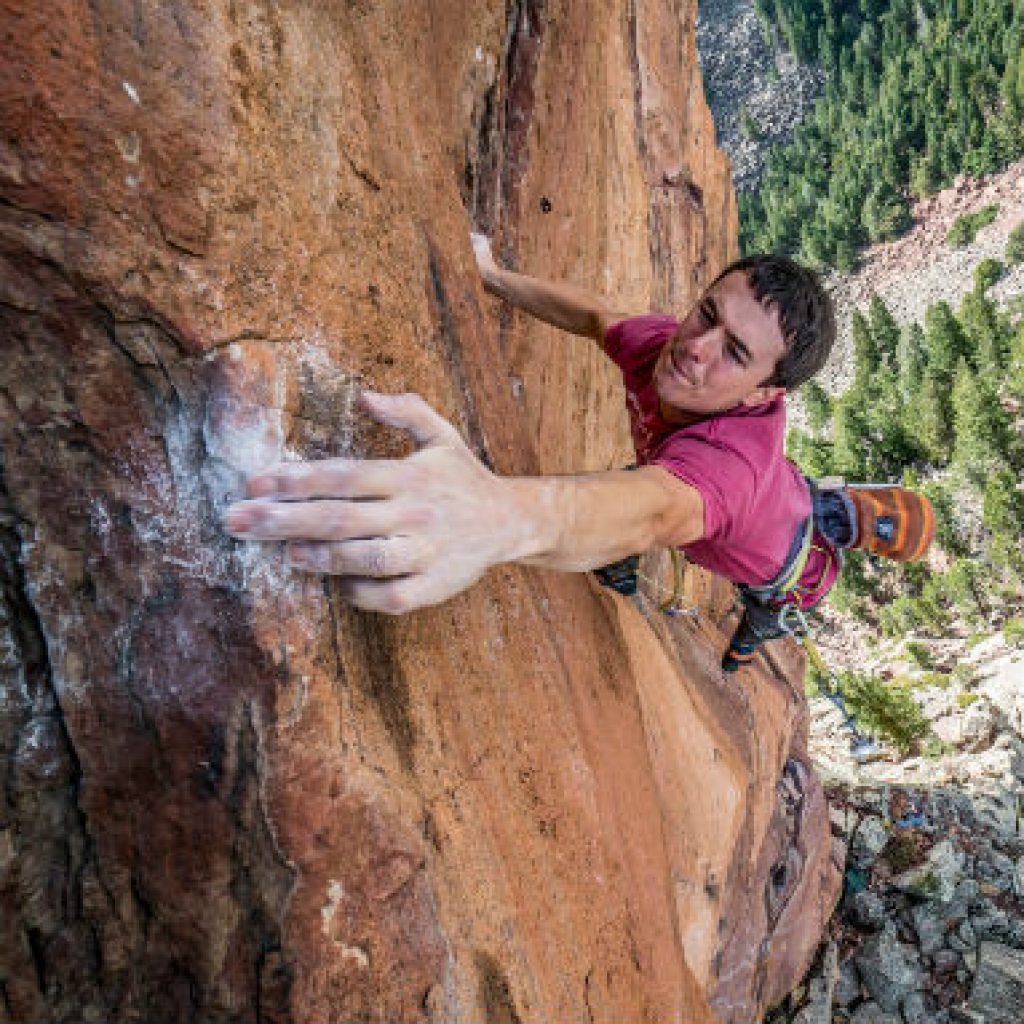 SAFETY THIRD
For most climbers, it's safety first. But Brad Gobright is definitely not most climbers. Fueled by day-old donuts and unhindered by a fear of falling, this young talent is pushing the limits of scary trad and free solo ropeless climbing. Having survived a few big scares, Brad is determined to make his boldest ascent yet — a first-ever free solo of a heart-stoppingly exposed and difficult route.
STUMPED
"I don't want to be known as just a one-armed climber," says Maureen Beck, "I just want to be a good climber." Maureen Beck may have been born missing her lower left arm, but that hasn't stopped her from going hard. She takes whippers on 5.12 and crushes overhanging boulders, while shot-gunning beers. But she is not here to be your inspiration. "People say, 'Look, a one-armed climber, now I have no excuses.' I'm like, dude, you never had any excuses in the first place." Maureen is here to crush the gnar — with one bloody stump helping her get to the top.